Flowers: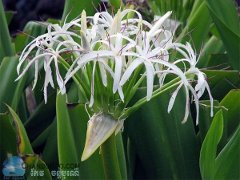 Khmer Name: កំភ្លឹង
English Name:
Scientific Name:

Chuon Nath: ឈ្មោះ​ប្រទាល​មួយ​ប្រភេទ ស្លឹក​ធំ​វែង​ក្រាស់​រៀវ​ចុង​ដូច​ស្លឹក​ម្នាស់​ តែ​ឥត​បន្លា មើម​មាន​ស្រទាប់​ៗ ដូច​មើម​ខ្ទឹម​បារាំង ។


Headley: kind of plant which grows from a bulb and has large, long, thick leaves

Source: ( http://www.chanbokeo.com/index.php?gcm=1411&grid=101790&gtop=5145 )
These flowers are grown wild in the rural area or any bushy place where there is dampness. Pka Kamploeng is white, grown in bunches at the end of a huge stems which can be broken easily. They grow as shrub and easily spread during the rainy season.
Pka Kamploeng also offers very pleasant fragrant to the passerby. Some village people planted them in the back of their farm site just for the evening fragrance to enjoy.
Image with link belong to the linked site. Images maybe crop/resized from the original to fit the format.